The story of the 36th President in United States history starts right here in Texas Hill Country! Lyndon B. Johnson was born and raised in these parts before finally being laid to rest in this place he long called "home." Today, Lyndon B. Johnson State Park is a Texas-German farm that tells visitors the story of President Lyndon B. Johnson, one of the most noteworthy figures in American history! Get an up-close glimpse at what life was like for President Johnson's parents and grandparents when they settled in this area. Here are 4 fun things to do at Lyndon B. Johnson State Park:
1. Explore the Sauer-Beckmann Living History Farm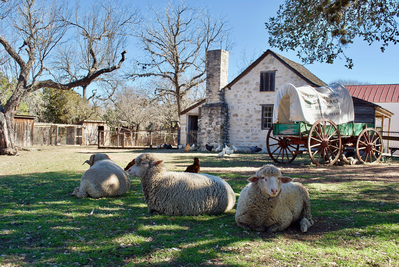 Experience life as if you're living it alongside early settlers at the Sauer-Beckmann Living History Farm! The Sauers and Beckmanns were 2 of the first families to settle here in Texas Hill Country back in the late 1800s/early 1900s. Today, this farm is worked every day by park rangers decked out in historical clothing! You'll see these farmhands feeding and milking animals, gathering eggs and slopping hogs just like families did back in the day. When they aren't busy forging iron in the blacksmith shop, knitting or canning, these park rangers are happy to answer any questions you may have! Self-guided tours are free but donations are welcome.
2. View Wildlife on Hiking Trails
Enjoy 1.2 miles of easy hiking trails when you visit Lyndon B. Johnson State Park! Gather the family and bring them down for a blood-pumping hike that allows you to experience the very best Lyndon B. Johnson State Park has to offer! As you travel along hiking trails, you're likely to see some special wildlife like bison and longhorns as well as wildflowers, creeks and historic cabins. You won't believe all the awesome things you'll find when exploring these hiking trails!
3.Learn Important History Lessons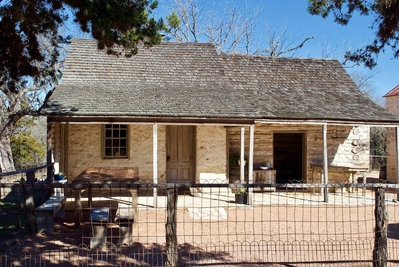 Start your trip at the Lyndon B. Johnson State Park Visitors Center to see memorabilia from President Johnson's time in the Oval Office and how the land and people of this area molded his world view. Get up to speed on important American history by watching one of several films on President Johnson. Take part in a self-guided ranch tour at Lyndon B. Johnson State Park to see the President's birthplace, the Johnson family cemetery and the Johnson's ranch house known as the "Texas White House".
4.Visit Historical Buildings
You're going to love exploring a handful of historical buildings at Lyndon B. Johnson State Park! The Behrens Cabin is located next to the Visitors Center and is a 2-room dogtrot cabin complete with period furnishings and built in the 1870s. A short walk down a scenic trail takes you to the Danz family log cabin, built in the 1860s. Lyndon B. Johnson State Park is full of these interesting historical buildings that are sure to catch your eye and provide you with interesting facts and information you never knew!
Now that you know all there is to do at Lyndon B. Johnson State Park, take a look at all the other great attractions in Fredericksburg TX to visit when you stay at our resort! We can't wait to see you soon!