There's no better place than Fredericksburg, Texas to spend a Thanksgiving getaway with family! As you're surrounded by a rich cultural history, scenic views of Texas Hill Country and those you're closest with, you'll have plenty to be thankful for. Outside of your giant Thanksgiving feast filled with turkey and all your favorite fixings, you'll find plenty of exciting things to do around town. Here are 5 things to do in Fredericksburg this Thanksgiving getaway:
1. Food at the Clubhouse
Thanksgiving is all about good grub and we have plenty of it at Firefly Resort! Simplify your Thanksgiving week dining plans with on-site, breakfast, lunch and dinner provided by some of the top food truck vendors in the area. Try some Texas Hill Country favorites each day (other than Thanksgiving day) at Food at The Clubhouse. Vendors like Snackity Shack, Dumpling Diva, Millz on Wheelz Cajun Creole Cuisine, Soso Nutrition, La Tapatia Mexican Cuisine and more provide a nice change of pace from your traditional Thanksgiving favorites. Friday and Saturday will include live musical performances at night!
2. Fredericksburg Balloon Festival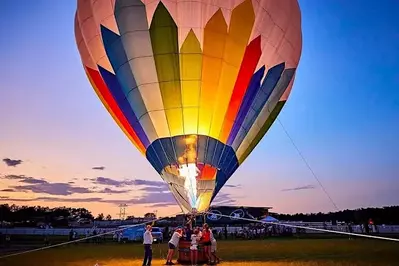 Check off several items from your Texas Hill Country bucket list all in one place at the Fredericksburg Balloon Festival! Hot air balloon rides, safari wine tours, grape stomps and polo matches provide fun for all. Enjoy a farm-to-table dinner and live music during this jam-packed Saturday at Grapetown Vineyard and the Fredericksburg Polo Club. VIP passes are all-inclusive and even give you a chance to take a tethered hot air balloon ride. As you take this Fredericksburg experience in, enjoy some delicious wine and soak in the picturesque views that make Texas Hill Country so special!
3. Fredericksburg Trade Days
Fredericksburg Trade Days have long been a favorite among the many things to do in Fredericksburg. You don't want to miss its special show the weekend after Thanksgiving! Explore 7 barns and numerous acres of antiques, collectibles, tools, crafts, furniture, clothing, jewelry, food and so much more at Sunday Farms in Fredericksburg. In between shopping from more than 350 different vendors, relax in the biergarten, sipping on a cold one as live music provides the ultimate relaxation.
4. The Peddler Show
Even more unique shopping opportunities await at The Peddler Show the weekend following Thanksgiving! Artisans, crafters, jewelers, designers and boutiques from all over the country converge at the Gillespie County Fairgrounds and Exhibition Hall. This marketplace is full of quality workmanship and original clothing, jewelry, rustic furniture, home decor, gourmet foods and much more. You're not going to believe all the unique items and gifts you find at The Peddler Show!
5. Eisbahn Outdoor Ice Skating
Skate on real ice at this annual Fredericksburg holiday tradition! Beginning in mid-November and running through early January, Eisbahn Outdoor Ice Skating has been a Texas Hill Country staple for nearly 2 decades. Try your best to keep your balance as you experience the thrills of gliding on ice at Marktplatz (Market Square) in Fredericksburg. For those who would rather watch family members and friends try this adventure, seating is available.
Add a touch of Texas Hill Country culture and tradition to your Thanksgiving getaway by enjoying these special things to do in Fredericksburg! As you decide on what you'll want to experience on your trip, take a look at these tips for the perfect Fredericksburg getaway!