Firefly Resort brings a new sense of luxury to the Fredericksburg area. We have two amazing lodging options in our RV sites and our tiny homes. There is also an abundance of resort amenities to enjoy during your visit, which is sure to add to the overall experience. One of the best things about our resort is its location, right in the heart of the Texas Hill Country. Here are 4 things you'll love about the location of our resort in Fredericksburg TX:
1. Beautiful Natural Scenery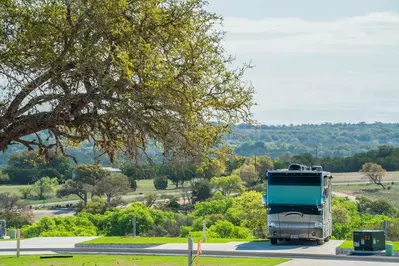 If you have been to Fredericksburg before, you know that it's one of the most gorgeous areas in all of the South. You can enjoy the sights of vineyards along with stunning hills and valleys. The area is part of the bigger section known as the Texas Hill Country, which is known for its scenic views and incredible outdoor activities and wineries. At our resort, you will be in the heart of the scenery. Whether you want to sit outside your RV in a recliner or explore the resort, you can capture the amazing views of Texas all throughout your trip.
2. Explore the Wineries
Another one of the great things about the location of our resort in Fredericksburg TX is that it is located near all sorts of amazing attractions. As you may know, the Texas Hill Country is one of the largest suppliers of wine production in the United States. Therefore, you can explore many of the local vineyards and wineries during your trip. They can offer you guided walks through the vineyards, as well as wine tastings! We guarantee you will not find any wine that is fresher than what you will find in Fredericksburg, as it is made right on-site at many of the local stores. Some of the most popular wineries in the area include Barons Creek Vineyards and Alexander Vineyards, which are both less than 10 minutes away from our resort.
3. Outdoor Adventures
For our guests who are outdoor enthusiasts, you will fall in love with the location of our resort. You can be just minutes away from all sorts of outdoor activities, including places to go hunting, biking, and hiking. During the warmer months of the year, you can also enjoy river kayaking and tubing! After a busy day of sightseeing, you can look forward to a relaxing evening back at Firefly Resort. We have an outdoor kitchen and grills where you can cook dinner with your family, and you can also enjoy a soothing soak in the community pool! Whether you want to enjoy a relaxing getaway or be on the go with exciting adventures, you can find it all just minutes away from Firefly Resort!
4. Incredible Dining Options
One of the best parts about going on vacation is getting to sample all the amazing cuisine that is local to the town you are visiting. When you visit Fredericksburg, you will have the pleasure of getting to try all sorts of amazing food. Throughout the town, you can find all kinds of incredible restaurants that feature everything from seafood to Tex-Mex and BBQ! No matter what you are craving, there is a place for you close by!
Are you ready to plan your next vacation? Learn all about our resort in Fredericksburg TX and come see for yourself why so many folks love this area that we call home! We look forward to seeing you soon!