Experience the getaway of a lifetime in a unique way this vacation! Stay in one of our tiny homes in Texas! Tiny homes at Firefly Resort provide a one-of-a-kind experience that is sure to be fun for all members of your family. You'll get to experience everything that makes Texas Hill Country so special all while staying in cozy accommodations that don't break the bank. Here are 5 benefits of staying in our tiny homes in Texas:
1. Unique Experience
Not many people can say they've stayed in a tiny home. It's time you join this select club to see what all the hype is about! Experience vacation in a unique yet simple way that provides everything you need for an experience you'll never forget. Not only are tiny homes convenient, they're also special in their own way. Sleeping lofts are an exciting way for kids to experience something new that makes vacation all the more fun!
2. Peaceful Getaway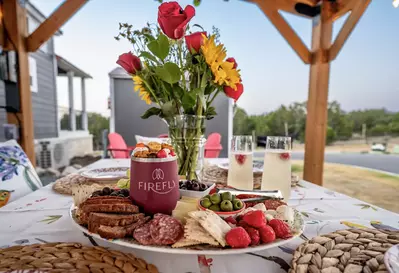 Serenity makes its home at Firefly Resort! Our tiny homes in Texas are the perfect place to experience peace and quiet as you soak in the beauty that is Texas Hill Country. Kick back in a chair on a covered porch as you gaze into the distance to see spectacular Fredericksburg views. Enjoy a picnic with family from the comfort or your private covered patio, gazebo or pavilion. Gather around a fire pit to keep warm on a chilly night as you look up to the sky, spotting some of your favorite constellations.
3. Simple Stay
Life is just simpler when you stay in a tiny home. The simplicity of tiny homes allows you to better focus on what's most important: the experience of visiting Texas Hill Country over material possessions! Fredericksburg and the surrounding area is full of unique experiences that you have to get out and enjoy. Spend the majority of your time exploring these special places before coming back to a tiny home that has all the essentials and comforts you desire.
4. Quality Family Time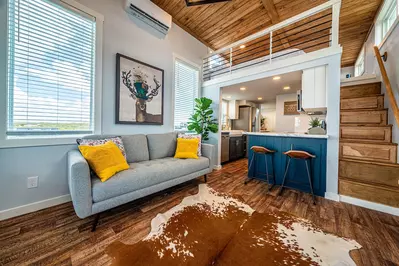 Vacations have long been a great way for all members of the family to bond over shared experiences. That bonding experience is elevated when you stay in our tiny homes in Texas! Once you return to your tiny home after a day of exploring, enjoy some of the home's amenities, like fireplaces and TVs as you recap your adventures. Perhaps cook a family dinner inside your fully equipped kitchen before eating it out on the porch as you enjoy the unbeatable Fredericksburg weather.
5. No Compromise on Amenities
Staying in a tiny home doesn't mean compromising on amenities. You'll still be able to enjoy all the luxurious amenities at Firefly Resort! On a gorgeous day, spend some time relaxing at the 2-tiered infinity pool or hangout at the clubhouse playing games like cornhole or enjoying live music. Rent a golf cart to explore all of Firefly Resort and possibly meet some new friends. Take the kids to the playground to wear off some extra energy built from all the excitement at Firefly Resort.
You're going to love the experience of staying in our tiny homes in Texas! Explore our current specials to save on your next visit to Texas Hill Country!