There's no doubt in your mind Texas Hill Country is where you want to head for your next vacation. This charismatic canvas painted with spectacular scenery, one-of-a-kind experiences, exhilarating adventures and a hallowed history attracts visitors from all over the world looking to get away from the regular rigors of life! Yet, the question of where to stay can be one that takes time and research. To help you through the process we've put together this guide featuring 4 things to check when looking for resorts in Texas Hill Country:
1. Amenities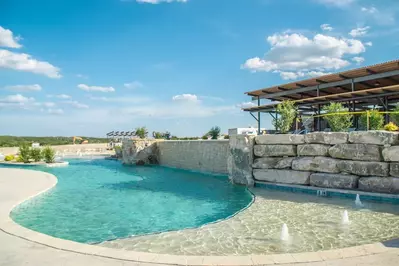 The amenities included at resorts in Texas Hill Country can make or break your getaway. A resort should offer all the comforts of home while simultaneously providing additional amenities that ensure an unforgettable experience. Firefly Resort is full of amenities that are sure to enhance your stay! Soak up the Texas Hill Country sunshine from a 2 tier infinity pool or head to the covered playground where the kids are sure to have a blast. Spend time bonding with the family at the clubhouse, playing fun games like cornhole. We even offer golf cart rentals to make exploring our resort and all of its amenities a breeze.
2. Specials
The only thing as comforting as a full heart is a full wallet! When you save money on resorts in Texas Hill Country, you have the added flexibility of being able to spend more on attractions and activities. This allows you to get the full Texas Hill Country experience. Firefly Resort is proud to offer specials throughout the year that save you money on luxurious accommodations! Make sure to check out our specials page before booking to ensure you take advantage of some of the best deals in Texas Hill Country.
3. Extra Perks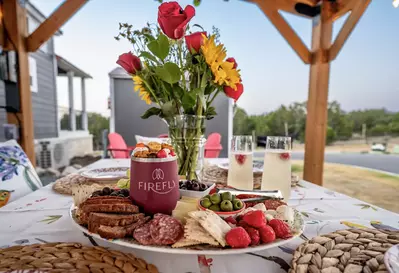 One of the most stressful and time consuming parts of any vacation is planning. Firefly Resort offers concierge services that take some of the planning off your plate! Let us handle any reservations you may need so you can focus on what's most important: your adventures in Texas Hill Country! No matter what you wish to experience on your trip, we're happy to lend a helping hand so all you have to do is show up at the appropriate time and place.
4. Resort Events
Here at Firefly Resort, we're a true community in every sense of the word. That means regular events for our guests to take part in! Head to our clubhouse on the weekends where you can experience live music from talented performers and some scrumptious food from some of Fredericksburg's finest vendors! Our seasonal events — such as Oktoberfest, Thanksgiving Dinner and much more — are can't-miss experiences that the whole family is sure to love. Celebrate with your loved ones while meeting some new friends on your next vacation to Texas Hill Country.
Before you decide on which one of several resorts in Texas Hill Country to stay at, make sure you explore these important aspects of area accommodations. We would love to have you at Firefly Resort! Explore our luxury accommodations today to find the perfect spot for the vacation of a lifetime!